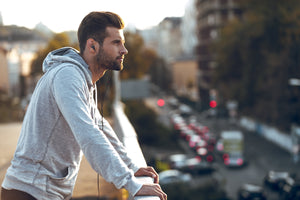 HOW TO:
Get SONICFOAM isolation tips
Love your headphones again!
Turbo charge your earphones with the best upgrade and experience sound like never before.
-Noise isolation delivering better sound, even at lower volumes-
Tested
The SONICFOAM Difference
The key to effective isolation is a foam bud which expands slow enough to allow it to be inserted in the ear before it expands back to normal size to allow it to create a perfect seal. Sonicfoam buds are tested to ensure they expand at the correct rate.
Each box contains 20 buds, enough for a year's worth of awesome sound.
Keep your headphones in while you run. The heat activated memory foam fits to your ear canal in a way that creates a more secure fit than standard silicone tips.
Hear what you want. Block out the rest.
Be amazed at how good your headphones actually are. You will hear more. The sound will be richer, deeper and more immersive.
Achieve higher levels of focus while you work or study by isolating yourself from the noise around you. Be productive anywhere. Let the deep work begin.